Asphalt driveway solutions that last!
Asphalt driveway projects are a popular alternative to concrete or stone driveways for residential driveway paving solutions. An asphalt driveway allows a smooth application that has the potential to last for decades without the need for ongoing strenuous maintenance. Our team of experts works with customers to create the right asphalt driveway or walkway for your residence that uplifts your exterior space. After installing custom asphalt driveway paving projects our team also shares key information to all customers on how to ensure the lustre of driveways to ensure a long-lasting product.
Residential Asphalt Driveway Paving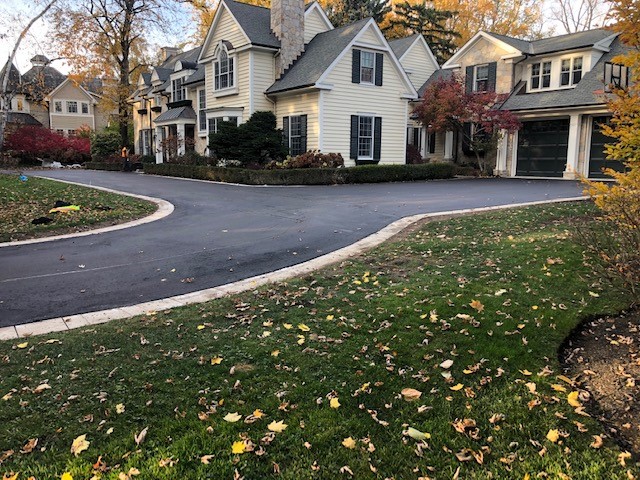 Have you heard of asphalt driveway paving?
Asphalt driveway finishes are made from a petroleum-based material in a dark brown or black finish. When applied, asphalt is quite liquid allowing for a very smooth, even, and hard finish once dried. Many confuse asphalt with tarmac, but the two are quite different. Asphalt used for asphalt driveway paving is a modern variation where the "tar" element is replaced by the byproduct of petroleum during the distillation process.
Benefits of Asphalt Driveway Paving
Expect a weather-resistant, waterproof, and flexible surface with asphalt driveways that last the test of time!
Asphalt driveway work is far less expensive to install and maintains its lustre over time without cracking during seasonal changes.
You can expect your asphalt driveway to last anywhere between 15 to 20 years or longer if given the right care!
Asphalt driveway surfaces are far smoother than other alternatives and smoother surfaces are less prone to damage, which means less repair work required overtime!
Did you know that asphalt driveways offer a quieter experience? Customers who work late evenings can expect to quietly pull-up onto their driveways without noise complaints or waking family members.