Expert Asphalt Contractors specializing in Parking Lot Paving
Pave Co. LTD. offers parking lot maintenance, patching, and new parking lot installation
We are one of the Greater Toronto Area's long-standing paving and asphalt parking lot contractors known for outstanding service. We always provide expert advice on a variety of asphalt parking spaces and concepts for our customers. Our experienced pavers want what's best for the long-term quality of your parking lot expansion or existing parking lots. Our top-tier service starts with trust. We implement cost-effective service solutions for your parking lot maintenance, parking lot expansion, or new parking lot that's beneficial to its longevity. Asphalt paving is the preferred method for commercial parking lot paving due to its smooth surface, even finish, weather resistance, and lustre. Let us help you design and install beautiful exterior parking spaces.
Asphalt is porous which allows water to drain throughout the pavement. This solution helps your existing parking lot or new parking lot last for decades while maintaining the safety of your parking spaces. By allowing water to safely run through your asphalt, you save money and avoid long-term parking lot maintenance.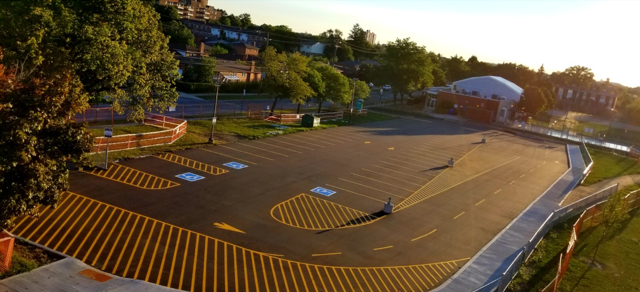 We operate throughout the following areas to complete expert commercial and residential projects. If you require parking lot maintenance, a new parking lot, a parking lot expansion, or a novel concept to brand new parking spaces, get in touch today!
Whitby
Oshawa
New Market
Aurora
North York
Barrie
Oakville
Burlington
Mississauga
Caledon
Professional Parking Lot Paving Company Near You
We provide expert quality commercial parking lot paving, parking lot maintenance, parking spaces developments, parking lot expansions, and parking lot repair for Whitby, New Market, Aurora, North York, Barrie, Oakville, Burlington, Mississauga, and Oshawa. Our service helps businesses reduce long-term driveway paving costs by serving as one of the foremost paving contractors in the GTA and beyond. Interested in hiring expert asphalt pavers for your commercial space? Contact us today!
Ask us about our speed bump asphalt service! We help build and maintain the safety and flow of traffic in your parking lot paving systems!