Your Asphalt Repair Professionals
Our team of asphalt paving experts specializes in asphalt repair for your commercial property. We use quality graded equipment to install seamless surfaces that are weather-resistant and waterproof. With constant use, parking lots experience ongoing wear and tear that causes potholes, divots, fades, and more, after prolonged use. We help our clients repair damaged or worn parking lots for a smooth finish that will stand the test of time.
Parking Lot Repair and Maintenance
Everyone loves the stunning and smooth finish of freshly laid and dried asphalt but, after ongoing commercial use, potholes, divots, and other damage can occur. Our parking lot repair system involves using the right methods to save your asphalt paving surface by safely patching holes to avoid further damage.
Some asphalt contractors simply fill damaged areas as a means of full asphalt repair, and this does work in certain instances. But, for larger areas of damage, more work may be required to fully fix your parking lot paving damage. In either instance, you can trust that we will provide you with the right parking lot repair or asphalt paving assistance for long-term use. We know when projects require full renovations versus minor asphalt resurfacing and asphalt overlay.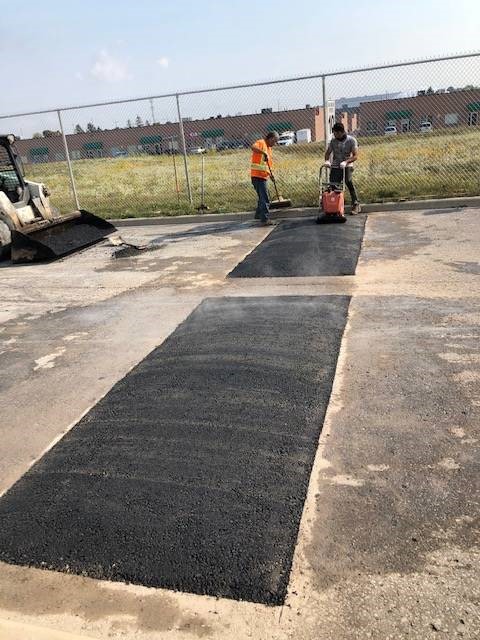 Asphalt Resurface & Asphalt Overlay
Asphalt resurface and asphalt overlay increases the lifespan of your asphalt paving by placing a new layer over your parking lot paving work or asphalt driveway. Although this process does not necessarily fix root issues with uneven ground, asphalt resurfacing and asphalt overlay remove surface imperfections and divots with a brand new top layer finish. Resurface and overlay finishes last anywhere between 8 to 15 years depending on the level of care you provided your asphalt paving product.
Often asphalt paving does not exhibit enough topical damage to warrant full parking lot repairs or undesirable driveway paving costs. That's when customers look to asphalt overlay or asphalt resurface to help refresh appearances without invasive exterior top-to-bottom renovations. Some paving may display minor signs of potholing or cracks after years of use that don't call for serious renovations. This is when asphalt overlay and asphalt resurfacing services are the best courses of action!
Asphalt Repair Near You
Pave Co LTD. provides quality commercial asphalt repair services for the GTA and beyond. Some locations in Southern Ontario we have serviced in asphalt repair include Whitby, New Market, Aurora, North York, Barrie, Oakville, Burlington, Mississauga, and Oshawa. We help communities reduce long-term driveway paving costs by being one of the foremost trusted asphalt repair paving contractors in the GTA and beyond.